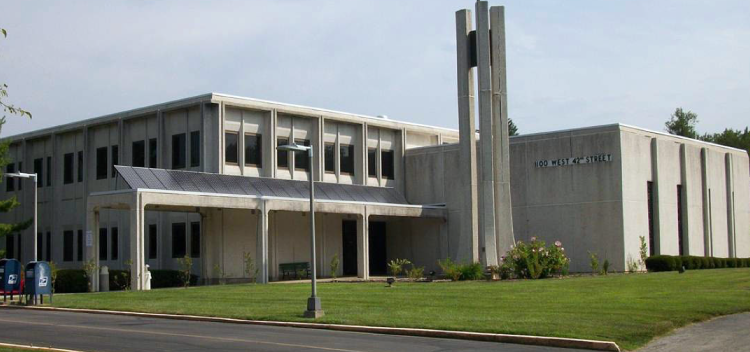 The Indiana Interchurch Center offers its tenants some of the best facilities in Indianapolis:
An inclusive and welcoming culture
Ample Free Parking
Great Conference Rooms — Four intimate meeting rooms holding more than 12-25 people; and two major conference rooms holding 120
On-Site Management
Central location, close to Newfields, Christian Theological Seminary, and Butler University
Natural Habitat Certification
Energy management
On-Site Art Gallery
Labyrinth
Fiber-Optic Internet Connectivity
24-Hour Camera Surveillance
UPS and FedEx On-Site
The original owners and tenants of the Indiana Interchurch Center when it opened July 5, 1967:
The Church Federation of Greater Indianapolis
The Indiana Council of Churches
The United Church of Christ
The Methodist Church, Indiana
The Christian Church (Disciples of Christ)
The United Presbyterian Church, Synod of Lincoln Trails
The Episcopal Church, Indianapolis Diocese
Over fifty years, some of the denominational headquarters moved to other space, some organizations ceased operations. Today the Interchurch Center's judicatories are:
The United Church of Christ, Indiana-Kentucky Conference
The Christian Church in Indiana (Disciples of Christ)
The Synod of Lincoln Trails (Presbyterian Church USA in Indiana and Illinois)
The Episcopal Diocese of Indianapolis.
The American Baptist Churches of Greater Indianapolis is also in the Interchurch Center, but has no financial investment in the building. Historically, three others had financial interest in the property: what is now the Indiana Conference of the United Methodist Church, what was the Indiana Council of Churches, and what was the Church Federation of Greater Indianapolis. Christian Theological Seminary has an interest in the land since they lease it to us, and one of our Board members represents CTS.
Over time, many nonprofits have moved into the Center. Several of these new organizations are faith-based, others are secular. But all are driven by values of social justice and dignity: protecting the vulnerable, preventing environmental degradation, helping refugees in Indiana and around the world, promoting human and civil rights, and fostering interfaith dialogue and cooperation