All politics is local, as the saying goes. And, there are few issues which hit as close to home for cities as climate change—even as state and national lawmakers have found little time or energy to address the ongoing crisis.
Despite this legislative gridlock on a macro level, local leaders from around Indiana gathered together for the third year in a row at an invite-only event to "discuss resiliency in the face of climate impacts."
Earth Charter Indiana—and its signature program, Youth Power Indiana—along with title sponsors Cummins, Indiana University Environmental Resilience Institute, and the McKinney Family Foundation, partnered Thursday at Englewood Christian Church for the Climate Leadership Summit.
After introductory remarks by Jim Poyser, executive director of Earth Charter Indiana, and a serenade by the students of DayStar Childcare and Infant Learning Center, Joe Bowling, co-director of Englewood Community Development Corporation, addressed the seemingly unlikely location for the conference.
Bowling said over the last quarter century his organization and the congregation itself has tried to set themselves on a path separate from other evangelical churches on the issue of climate change.
"It was unusual venue choice to say the least and we're just really honored," he said. "We mourn the fact that auditoriums and sanctuaries like this are often places that are more divisive and closed to conversations like this one. And, certainly, evangelical congregations don't have a wonderful resume when it comes to climate change issues."
Just the facts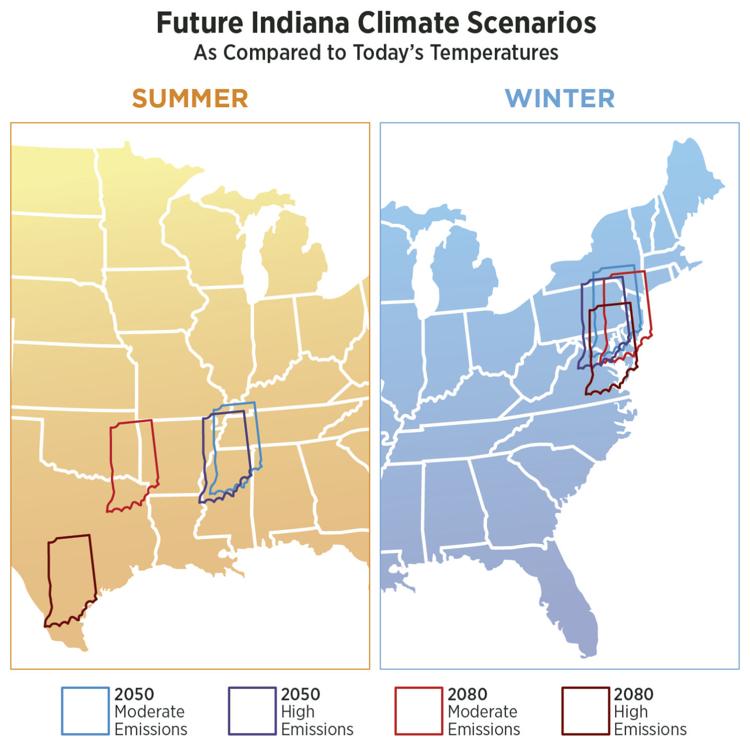 Before going any further in the day, the stark realities of the challenge facing humanity were placed on full display.
In a harrowing presentation, Jeff Dukes, director of the Purdue Climate Change Research Center and professor at Purdue University's departments of Forestry and Natural Resources and Biological Sciences, presented findings from the PCCRC's Impact Assessment Reports.
Dukes said projections for the state were based on different climate models including a high-emissions scenario, or "business-as-usual," or medium-emissions scenario "where we're working hard to avoid the impacts of climate change." In either scheme, Hoosiers are looking at a much warmer future.
If nothing changes, Indiana will experience 6 to 10 degrees of warming by mid-century, while the state will see 5 to 6 degrees of temperature increase under the medium-emissions scenario.
Dukes said this will cause more extreme heat in the summer, less extreme cold in the winter, a longer growing season, and increased cooling demand.
"We expect quite a bit of warming in the state," he said.
In addition to being hotter, the state will also be much wetter.
Dukes said using the projection models, the state will see an increase of 6 percent to 8 percent increase in annual rainfall by mid-century, and a 5 percent to 10 percent increase by late century.
"It's going to change, depending on the seasons," he said.
The study showed that in the future, winter will see a 16 percent to 20 percent increase in rain, and spring will see 13 percent to 16 percent more precipitation.
Dukes said with these increases will manifest themselves as more rain, and less snow when combined with the increased temperatures. He said this will mean increased runoff, higher streamflows, and more flooding. By contrast, summer and fall will show slight declines in rain, with less certainty in the projections.
Water will become increasingly valuable under the projections, as demand will increase due to the increased heat. All the while, water quality will be degraded.
Dukes said the conversation should be less about if the climate is changing, but to what degree.
"By the end of the century, essentially how bad the problem is [will] depend on our emissions in the meantime," he said. "The choices that we make between now and then are going to determine what people are going to be experiencing at the end of the century. And the choices that we make now in terms of our infrastructure and how we prepare for those changes are going to affect how the changes that are inevitable are going to impact our populations, our communities, our economy over time. So, it's critical that we're thinking about this sort of thing."
Cities lead the way
After lunch, the sanctuary's stage was populated by an assembly of Indiana mayors from around the state on the front lines of the issue.
The roundtable was moderated by Janet McCabe, senior law fellow at the Environmental Law & Policy Center, and featured mayors Richard Hickman (Angola), David Kitchell (Logansport), Denny Spinner (Huntingburg), Mike Bettice (Batesville), and Greg Goodnight (Kokomo).
Hickman said aquifers have become quite important to his constituents in Angola, as access becomes increasingly valuable.
"We don't want to end up like California, Colorado, or Nevada where we're wondering where our water is coming from," he said. "If there's anything that's sustainable it's water. We've got to have water."
Kitchell said nearby Miami County had pumped the brakes on wind energy turbines, while neighboring Tipton County has allowed them.
"A lot of people don't want wind turbines," he said. "They're afraid of what they do to property values, what they do to groundwater and all this sort of thing. But, we've got to think about the backup grid that's out there."
Spinner said when his community saw a foot of rain in 24 hours in July 2016, he told his constituents it was a once a millennium event. But, after 11 inches of rain fell in 24 hours in April 2017, and the same occurred just the previous weekend, the idea of this sort of disaster being a freak occurrence was far less plausible.